On November 12, 2017, LUN Partners Group (LUN) held its 1st FinTech Roundtable in Singapore. The roundtable hosted several leading strategic partners and FinTech companies from around the world: Quantifeed – Online wealth management solutions for financial institutions; cost-effective, secure B2B robo-advice technology, Platinum – Technology provider of smart and efficient trading solutions to the global Forex and precious metals market, Bluzelle – Enterprise-grade blockchain software for KYC management and decentralized ledger technology for financial institutions, SharesPost – World's leading brokerage, trading, asset management, and equity research services for private technology companies, MFS Africa – Largest provider of mobile money solutions in Africa and serves as a payment hub that's connected with more than 50 mobile money platforms and covers more than 170 million users worldwide.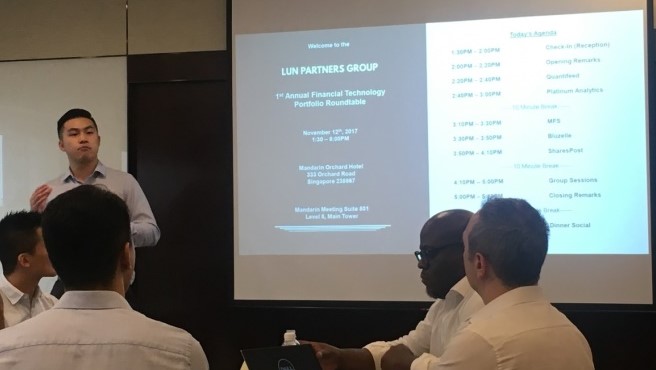 The event featured discussions around the "2018 Outlook: FinTech Trends and Innovations" as well as the "Shared Challenges, Opportunities, and Partnership Possibilities" among the participants. Through this dialogue and exchange, LUN built the foundations of a FinTech industry ecosystem, whereby its diverse group of portfolio companies can initiate business relationships with each other and together, explore impactful value-added synergies.
As a means of further substantializing this FinTech industry ecosystem, the roundtable's participants formed the The LUN Global FinTech Association. The association serves as a long term business alliance among its members and promotes open communication and sharing of valuable business acumen, connections, and other resources.
In the coming years, The LUN Global FinTech Association will continue to host strategic meetings such that its participants can gain meaningful relationships and shared success.