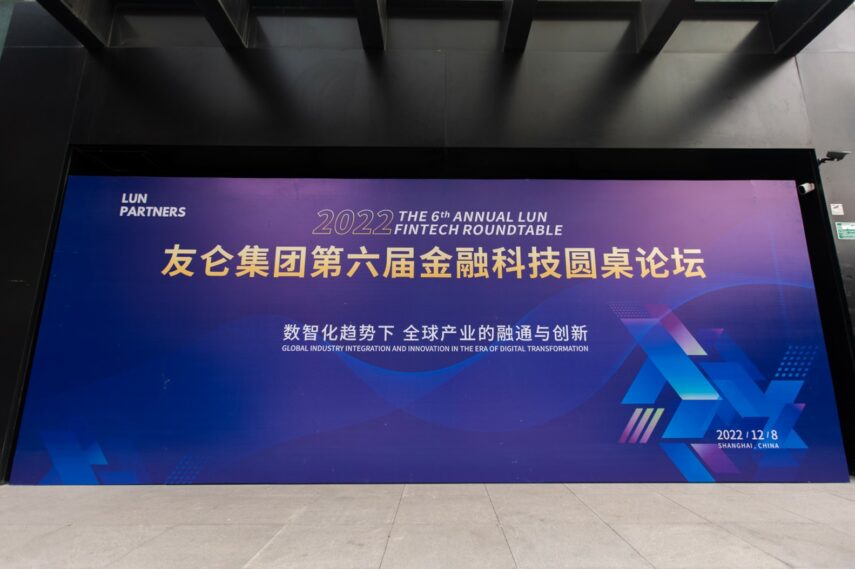 On December 8, 2022, the 6th Annual LUN Fintech Roundtable was successfully held at the Shanghai Original Identity Gallery. Peilung Li, Chairman of LUN Partners Group, and Zhaoqing Song, Founder and Chief Architect of Lacime Architects, attended the conference and provided opening remarks. The founders of LUN Partners Group's portfolio companies, leading industry experts, scholars and renowned entrepreneurs from all around the world attended the conference in Shanghai and online.

This year's conference theme centered on "Global Industry Integration and Innovation in the Era of Digital Transformation", and consisted of both keynote presentations and roundtable discussions.
During the keynote presentations, Alex Ypsilanti, Co-founder and CEO of Quantifeed (Asia's leading provider of digital wealth management solutions) joined online from Hong Kong, China, and gave a presentation on "Digital Transformation in the Wealth Management Industry". Mr. Ypsilanti shared his view on the status and development of digital transformation in the wealth management industry as well as the technical solutions Quantifeed provides for financial institutions. He also shared with the audience Quantifeed's recent acquisition of Alpima, a transformative acquisition that will strengthen and improve the company's technical capabilities and product portfolio, and enable Quantifeed's expansion to the European market.
Tsuyoshi Ri, Founder and CEO of Netstars (Japan's largest QR code payment aggregation platform) joined online from Tokyo, Japan, and presented on the "Current State of Cashless Payments in Japan and Insights for Chinese Companies Going Abroad to Japan". He introduced Netstars' journey through different stages of development on their QR-code mobile payments ecosystem and shared his successful start-up experience in Japan over the past years as reference for other Chinese entrepreneurs considering expansion to Japan.
Dare Okoudjou, Founder and CEO of MFS Africa (Africa's largest cross-border digital payment platform), joined online from Johannesburg, South Africa, and gave a presentation on "Cross-border Digital Payments, Removing Boundaries for Business between Africa and the World". Mr. Okoudjou provided an overview of the opportunities and achievements of the African mobile payment industry during the pandemic. He also shared MFS Africa's strategy and development in Africa and around the world, including expectations and prospects for the China market, and the ongoing rapid development of MFS Africa Asia, the China joint venture formed with LUN Partners Group.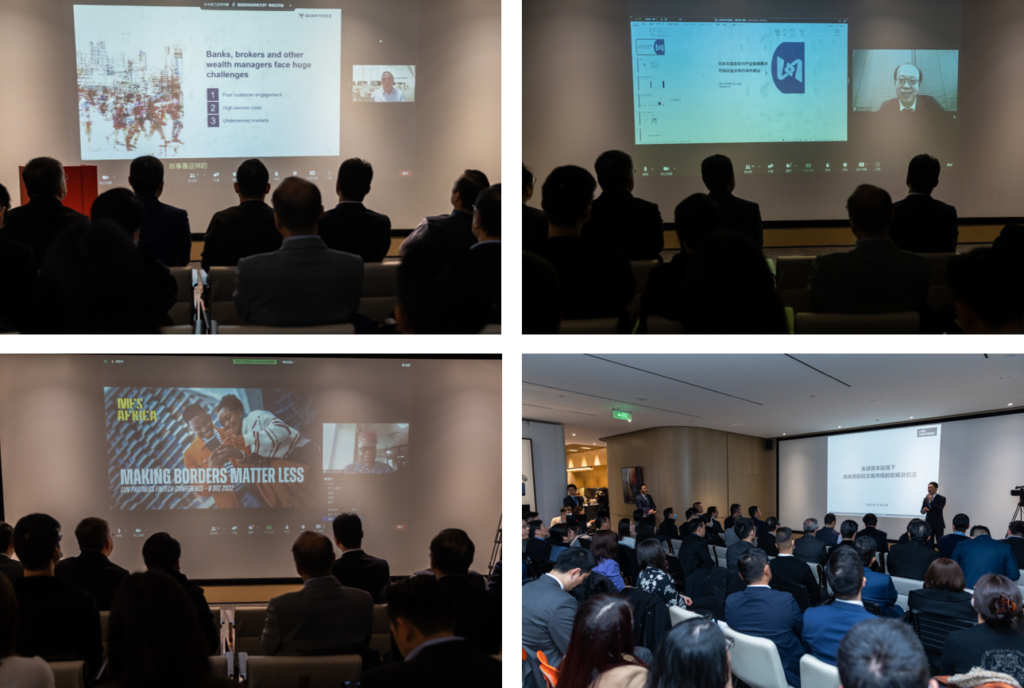 At the conference, Peilung Li, Chairman of LUN Partners Group, and Wilson Tsai, COO of FiNext Private, a subsidiary of LUN Partners Group, gave a keynote presentation regarding "The Private Market's Future Development and Opportunities Amid Global Market Turmoil ". Mr. Li shared his view of the ongoing global macroeconomic trends, the effect of market turmoil on public and private equity valuations, and the potential value that can be gained from unicorn investment during market downturn. Mr. Tsai shared regarding the unique ecosystem of the private market trading platforms and the key role FiNext Private plays in increasing transparency and accessibility of the private market.
During the first roundtable discussion, Charles Chang, Deputy Dean of Academics and Director of FinTech Research Center at Fanhai International School of Finance, Fudan University, Hank Chen, Executive Director of JP Morgan, Yikman Cheung, Executive Director of Hong Kong Financial Services Institute, Terry Huang, Professor of Finance at Fanhai International School of Finance, Fudan University and Senior Partner of Motif Art Group, and Eric Lo, Professor at the Hang Seng University of Hong Kong and Co-director of the Chinese Family Succession Research Center, many of whom dialed into the Shanghai event from Hong Kong and Taiwan. The group discussed the "Challenges and Opportunities for the Asset Management Industry in Today's Economic Climate". Among various topics, the panelists discussed "new trends and opportunities in the global capital market", "the wave of digital asset development in Hong Kong and the synergistic effect within the Greater Bay Area", and "comparison between art investment and NFT investment".

During the second roundtable discussion around "Current State and Future Development of Enterprise Digitalization and Transformation", Flora Tse, Founder and CEO of BaySound, Doreen Deng, Vice President of Microsoft Greater China and Global Partner Solutions Lead, Jack Lan, COO of Acer China, Wentao Sha, Deputy General Manager of Terminexus, and Jianbo Wang, Founder and Chairman of Shanghai Yimeng Group, discussed on "opportunities and challenges of digitalization faced by Chinese enterprises under the new changes", "role of human resource banks in the process of enterprise digital transformation", and "the development trend and prospect of application of the industrial metaverse".
During the third roundtable discussion around " Digital Payments as a Driver for Cross-border Trade and Yuan Globalization", Carrie Chen, Partner of LUN Partners Group, Qihong Bao, Co-founder and CTO of Platinum Analytics, Benjamin Chen, Founder and CEO of TFS, Michael Sung, Founder and CEO of FreeFlow Finance, Richard Wang, Associate Director of Fintech Research Centre at Fanhai International School of Finance, Fudan University, and William Ding, CEO of MFS Africa Asia, conducted in-depth discussion on "CBDC Digital Currency and M-Bridge Digital Currency Bridge Application Prospects", "role of CIPS in the internationalization of Yuan and its cooperation with overseas institutions", "development and trends of supply chain finance products based on distributed technology", and "China-Africa trade scenes promoting supply chain finance, digital foreign exchange, and e-CNY development".

After more than 5 hours of lively discussion and exchange, the 6th Annual LUN Fintech Roundtable successfully concluded. Since 2017, LUN Partners Group has held Fintech Roundtables for 6 consecutive years, adhering to our original intention of "fostering an ecosystem for mutual dialogue, collaboration, and innovation". The Roundtable is committed to facilitating ongoing exchanges between outstanding domestic and overseas FinTech companies, investment institutions, experts and scholars, and enabling the integration and innovation of technology and business models worldwide, so as to promote better social development.