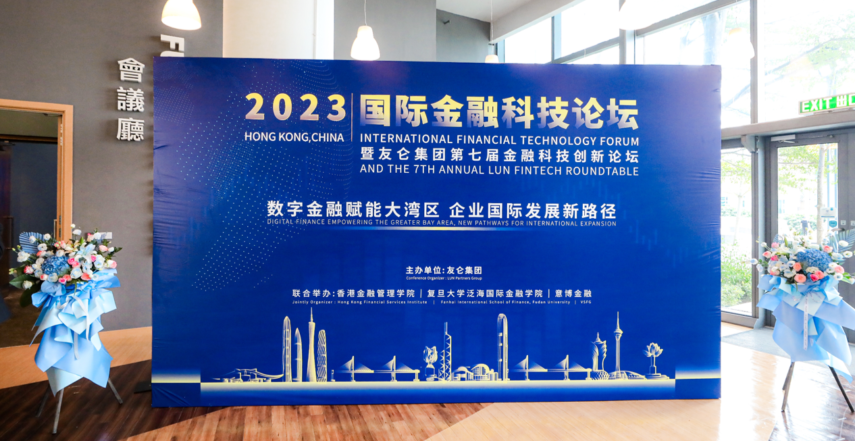 On November 7th, the 2023 International Financial Technology Forum and the 7th Annual LUN FinTech Roundtable was successfully held in Cyberport, Hong Kong by LUN Partners Group in collaboration with the Hong Kong Financial Services Institute, Fudan University's Fanhai International School of Finance, and Venture Smart Financial Holdings Limited (VSFG). Guest remarks were delivered by Victor Yim, Head of FinTech Hong Kong Cyberport, George Lam, Former Chairman of Cyberport and Honorary Chairman of VSFG, and Xizhou Jiang, Chief Supervisor of Shanghai Financial Association. Opening remarks were delivered by Peilung Li, Chairman of LUN Partners Group and Yikman Cheung, Executive Director of Hong Kong Institute Financial Services Institute.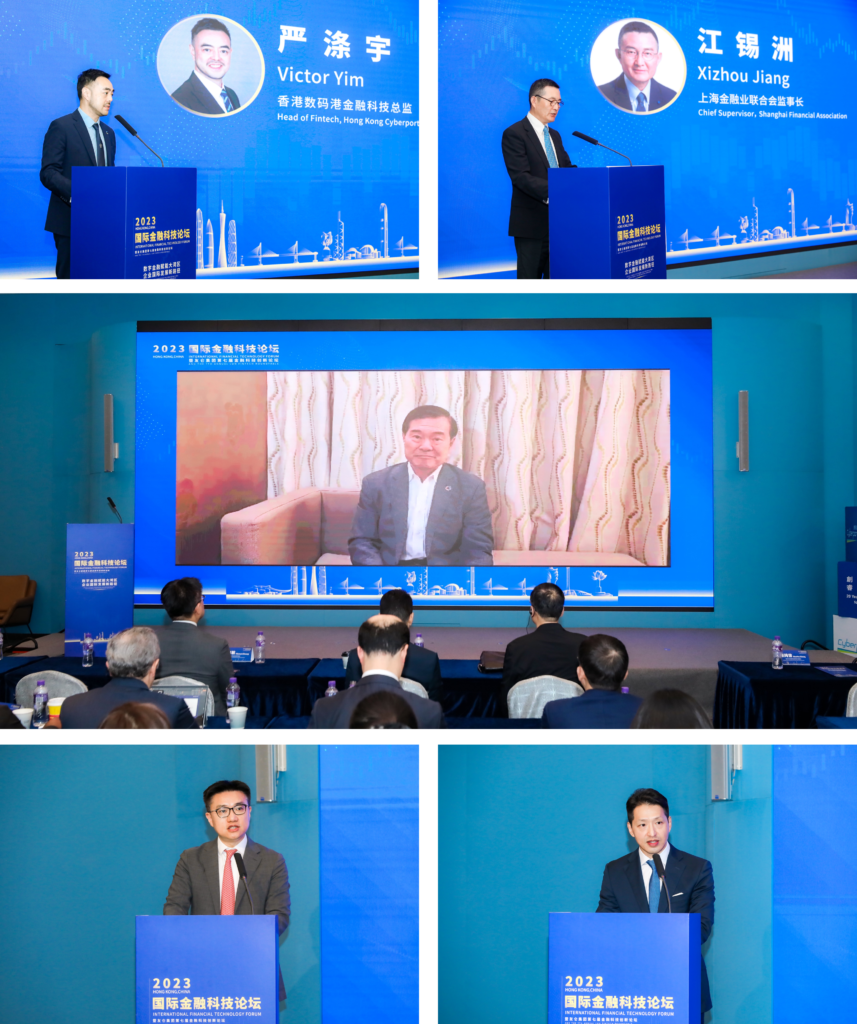 This year's forum centered on "Digital Finance Empowering the Greater Bay Area, New Pathways for International Expansion", invited experts from academia and industry from around the world to participate and share insights, ideas, and future outlook.
As the first keynote speaker, Winnie Han, Senior Vice President of Global Issuer Services and Head of China Issuer Services, Hong Kong Exchange delivered a keynote on "How FinTech Companies Can Leverage Hong Kong's Capital Markets to Go Global". Winnie shared the role of Hong Kong as the financial hub bridging domestic and international capital. She also highlighted that the Hong Kong Stock Exchange will continue to support the development of the global financial markets and promote the listing of Mainland China and other companies from around the world.
Mr. Peilung Li, Founder and Chairman of LUN Partners Group, spoke on "Challenges and Opportunities of International Development in the Changing World Order". Derived from the past experiences and success cases of LUN Partners Group's portfolio companies, including Japan's Netstars, South Africa's Onafriq, China's XH Smart, and Hong Kong's Quantifeed, Mr. Li shared how companies can achieve meaningful international expansion when faced with the changing world order and global economic slowdown. Mr. Li shared five pathways for successful international development, including (1) serving overseas markets through a combination of "China Experience + Local Team", (2) executing cross-border M&A to acquire complementary assets and create new growth opportunities, (3) leveraging "Local Partners' Brand & Channel" to rapidly assess new market feasibility, (4) globally distributing R&D, Production, and Sales across different geographies to capture diverse opportunities in those markets as they arise, and (5) rapidly acquiring new brands, channels, talent, and customers through cross-border M&A in more developed markets. In conclusion, Mr. Li also offered three general suggestions for international business expansion: (1) establish a diverse pool of talent, (2) leverage local partners' channels and brand, (3) integrate the culture and values of the business throughout its global branches.
During the first roundtable discussion led by Kaede Kotsuki, Partner of LUN Partners Group, Lawrence Chu, Chairman of VSFG, Dennis Zhu, Managing Director of Swiss-Sino Innovation Center, Xiaojun Chen, author of New Insight Into Investment, Victor Yim, Head of Fintech at Cyberport Hong Kong, and Chris ST Chan, Partner and Financial Services Market Leader at PwC China GPA Services discussed, "The Greater Bay Area: Global Capital Hub and Financial Innovation Frontier". In a series of lively exchange, the panel touched on the significance of Hong Kong in global financial market, Hong Kong bridging mainland enterprise with technological innovation and capital support abroad, the promotion of economic and technological cooperation and interoperability between Hong Kong and Mainland China, and the co-development of financial services and financial technology and the concept of green financial technology.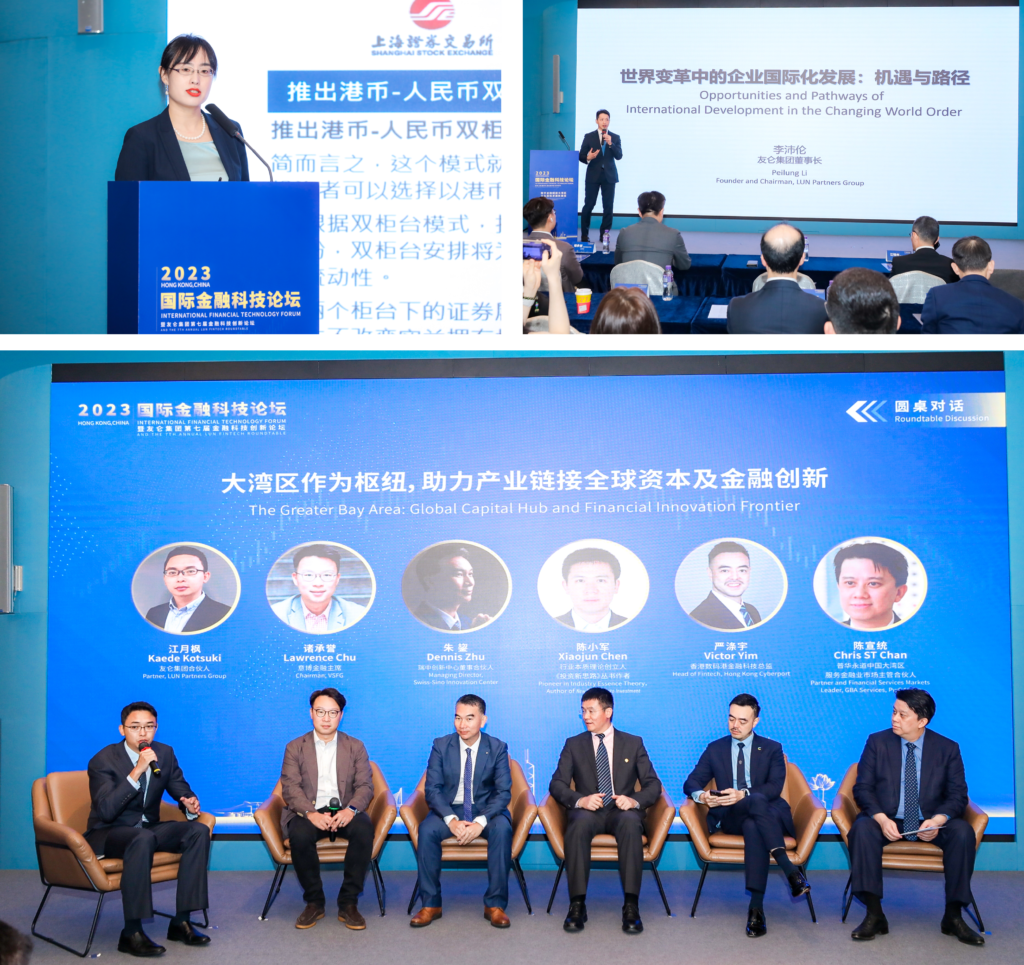 Dare Okoudjou, Founder and CEO of Onafriq, spoke on "Global Payment Infrastructure between Africa and the World". Mr. Okoudjou shared insights into how Onafriq has become the largest cross-border payment aggregator in Africa. While cultivating the African market, Onafriq is also actively exploring its role as a bridge for cross-border settlements for Sino-African commercial enterprises. By fully capitalizing on opportunities in the African market and offering a variety of rich and innovative cross-border payment products, Onafriq aims to carve out a larger developmental space for the African market in the global economy.
Tsuyoshi Ri, Founder and CEO of Netstars, delivered his keynote on "Localizing Payment Aggregation and Going Public in Japan" and shared the story of how Netstars brought China's innovative business model and practical experience in QR code payments to Japan. He detailed the company's growth trajectory since its inception to its public listing, as well as its experiences in closely integrating with and adapting to the Japanese market. Moreover, Mr. Ri emphasized the vast potential and growth objectives of Netstars both in the Japanese domestic market and in markets abroad.
Neil Ni, Managing Director of XTransfer, spoke on "International Expansion of Chinese Cross Border Payment Companies: From Servicing China to Servicing the World". Mr. Ni shared the founding purpose of XTransfer: "To help Chinese SMEs better participate in international trade and enhance the competitiveness of Chinese businesses." He discussed how by strengthening collaborations with global financial institutions, XTransfer successfully replicated the Chinese model in regions such as Southeast Asia and the Middle East and achieved the successful transition from serving local to serving the world.
Eehou Lim, Vice President of Technology and Strategic Marketing of XH Smart, delivered the keynote on "The Relationship of Physical and Virtual Payment". He shared the history of development for payments and outlined XH Smart's strategic positioning. Mr. Lim pointed out that the pandemic has prompted businesses and organizations to focus on digital transformation. An increasing number of financial institutions are seeking infrastructure modernization to enhance efficiency and service quality. Furthermore, as companies face intense domestic competition, many choose to venture abroad into the international markets and utilize global business operations.
The second roundtable regarding "Challenges and Opportunities of China's Corporations Going Abroad" was hosted by Will Wang, Co-Chairman of Davinci Tech and Venture Partner of LUN Partners Group, with panelists including Ben Zhang, Chairmen of Cango Inc., Wei Cao, Chairman and President of Lumenlabs and Sportsbeams, Chuck Chen, CTO of Netstars, Lockman Wang, Founder and CEO of Bestsuppliers.com, and Cynthia Lam, Partner at PwC China's Tax and Business Consulting services. The roundtable explored several key themes, including strategies for overseas business operations, solving localization challenges and transnational tax risks, importance of a comprehensive service platform for cross-border e-commerce, and the critical role of technological innovation in the globalization process.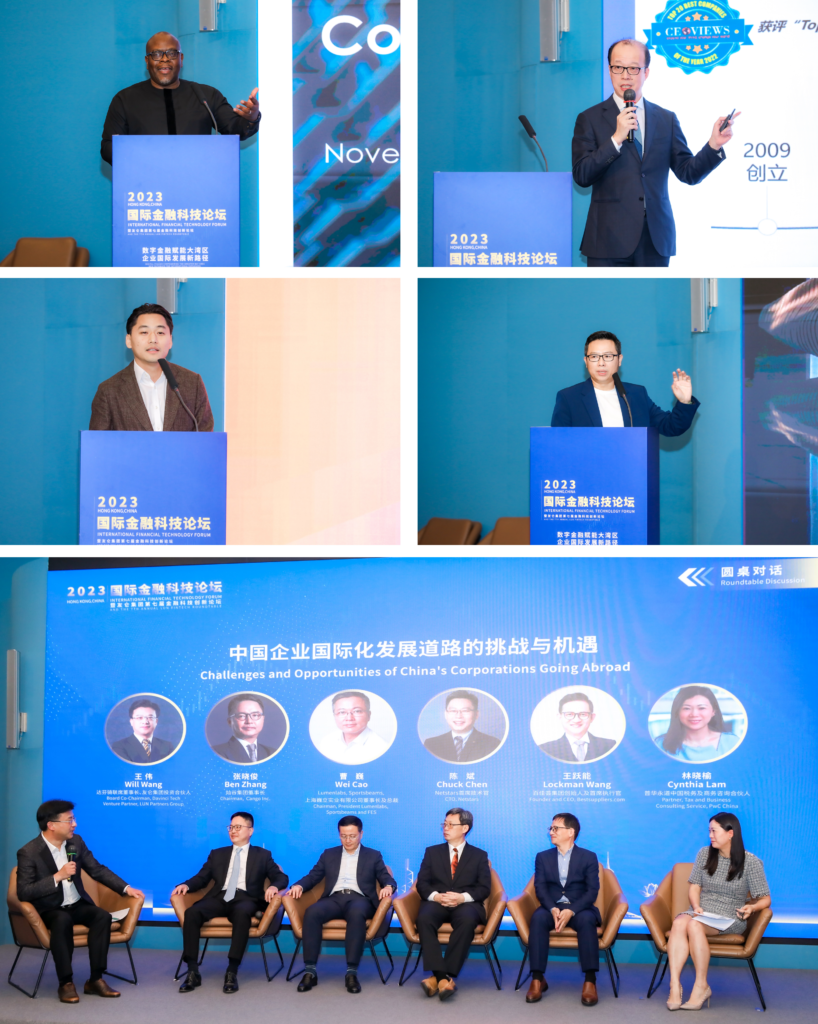 Charles Chang, Deputy Dean of Academics of Finance at FISF, Fudan University, delivered the keynote on "AI and Finance: Next Gen Corporate Business Informatics". He shared insights into the current state of data management in China and its application. Additionally, Mr. Chang discussed leveraging big data and artificial intelligence technologies to achieve accurate investment decision-making and efficient operational management.
Alex Ypsilanti, Founder and CEO of Quantifeed, gave insights into "Innovations in Digital Asset Management". He shared Quantifeed's mission to deliver comprehensive "wealthcare" to the broader market and the digital asset management solutions it provides to financial institutions. By collaborating with major financial institutions, Quantifeed has been promoting its solutions to meet the growing demands of the financial market. Mr. Ypsilanti emphasized the significance of artificial intelligence in this process, highlighting its capability to provide higher quality and more personalized experiences.
Henry Zhang, Founder and CEO of DigiFT gave a keynote on "Regulatory-Compliant Digital Asset Development, Status and Outlook". He shared his thoughts and experiences on real world assets' (RWA) transition to digital assets, emphasizing the importance of compliance in this development. Additionally, by presenting a case study on the digital issuance of U.S. Treasury bonds, Mr. Zhang elaborated the advantages and conveniences that digital technology brings to retail investors.
The third and final roundtable discussion on "New Wave of FinTech: Innovative Developments in Digital Assets" was hosted by Carrie Chen, Partner of LUN Partners Group, and was joined by several panelists including George Yu, Founder and President of UWEB and Honorary Chairman of HKBA, Henry Zhang, Founder and CEO of DigiFT, Alvin Feng, Chairman of Macau Direch International Investment Technology and Member of the Guangzhou Municipal Committee of CPPCC, Wilson Tsai, CEO of FiNext Private, and Richard Wang, Associate Director, Fintech Research Center at FISF, Fudan University. The group discussed a range of subjects, including the application of decentralization in finance and case studies on the integration of real world assets with financial technology. From the perspective of financial innovation in Hong Kong, the panel explored the possibility of trading digital assets. Additionally, they discussed the potential regulatory framework associated with trading private equity as a digital asset.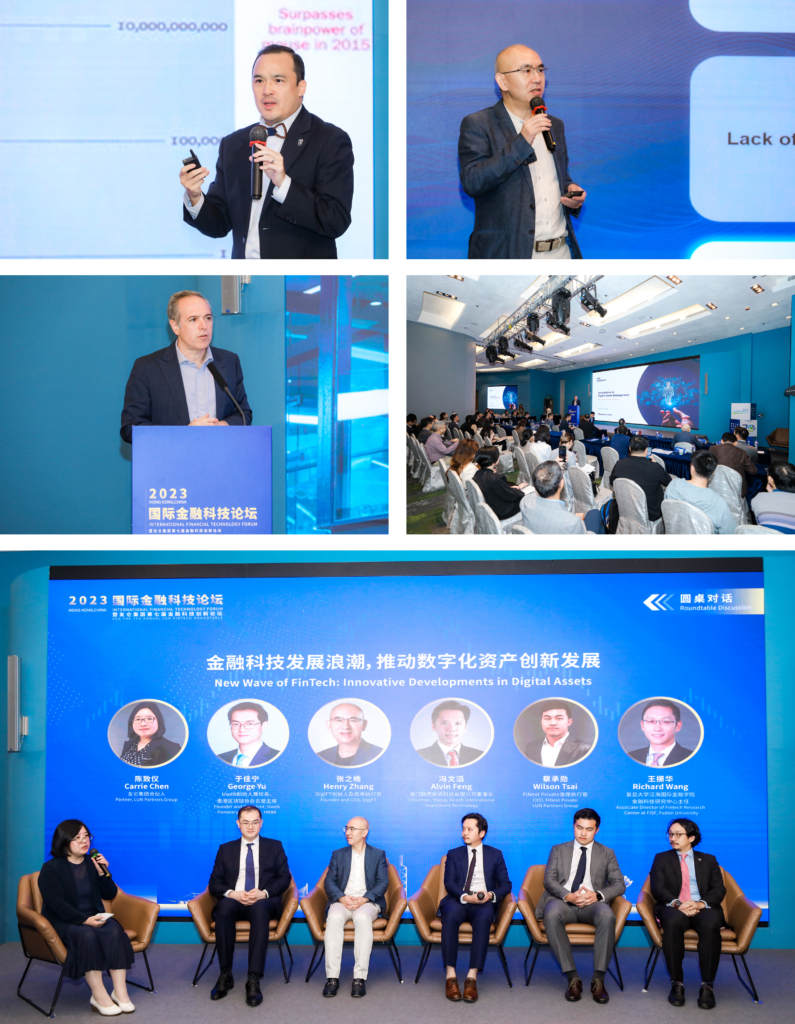 The forum was concluded by Helen Chen, Managing Director of LUN Partners Group. In the closing remark, Ms. Chen expressed gratitude to the event's co-hosts, keynote speakers, panel participants, and guests for their support of the International Financial Technology Forum. She looks forward to the Annual LUN FinTech Roundtable sparking more in-depth exchanges and collaborations in the years to come.