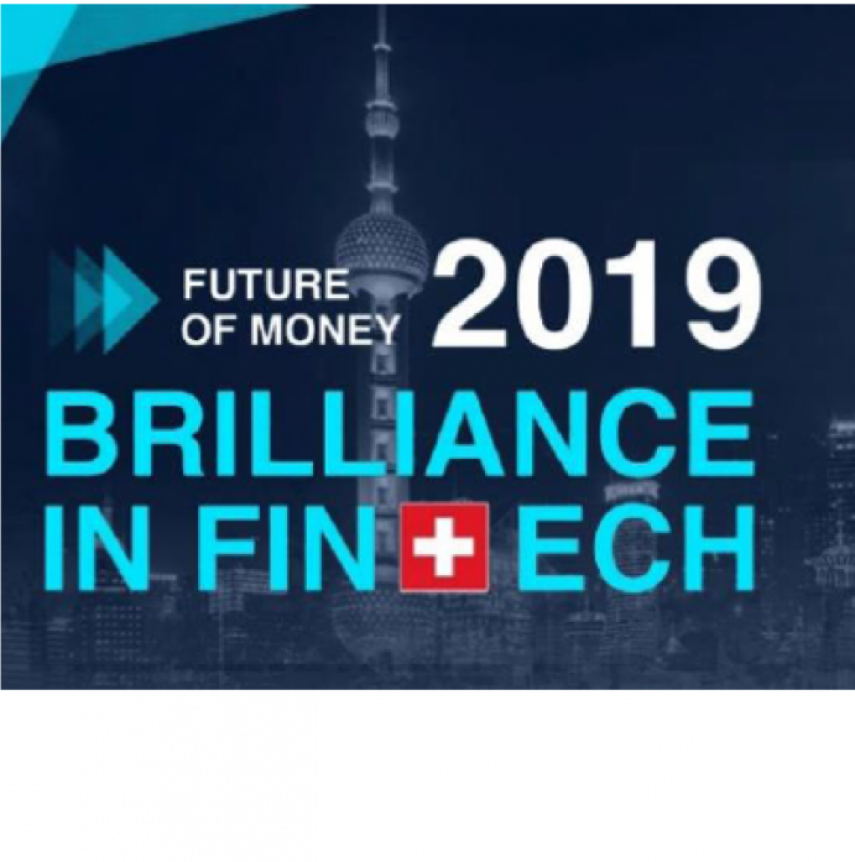 On April 23th 2019, Chairman of LUN Partners Group, Mr. Peilung Li, was invited to "Future of Money 2019:Brilliance in Fintech" event as a panelist. The event was organized by swissnex China in collaboration with Fanhai International School of Finance, Fudan University, the Swiss Confederation, and Swiss Banking Association etc.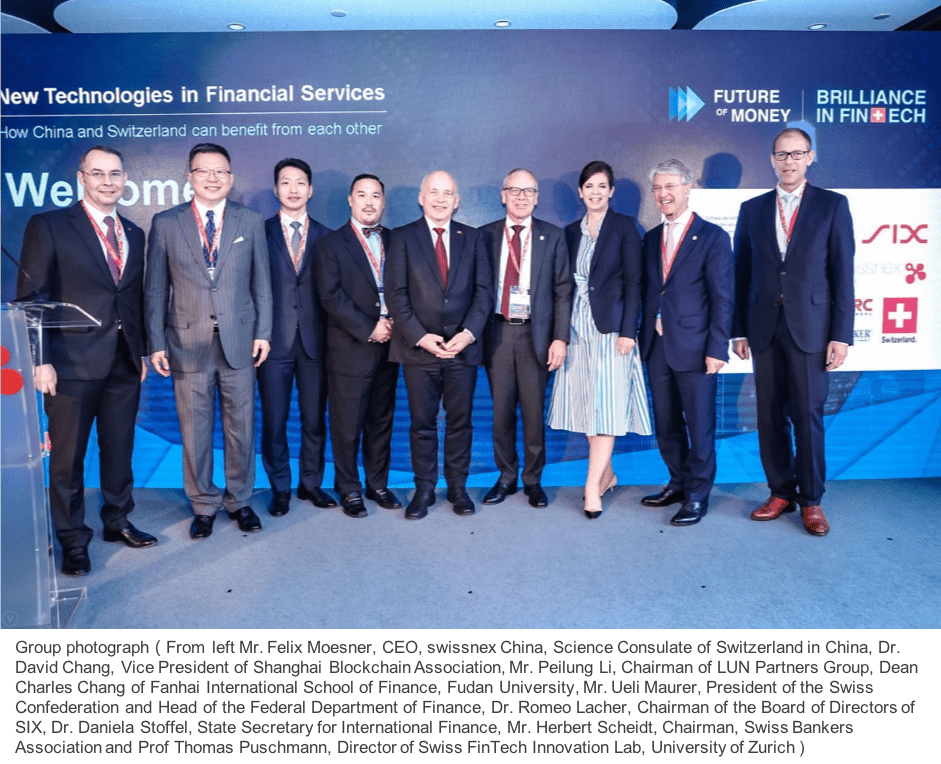 A delegation of high-ranking representatives of the Swiss Fintech and financial sectors led by Mr Ueli Maurer, President of the Swiss Confederation and Head of the Federal Department of Finance (FDF) attended the 'Future of Money 2019: New Technologies in Financial Services: How China and Switzerland can benefit from each other' event to analyze and discuss areas of mutual benefit in Fintech and Finance between Switzerland and China.
President Maurer opened the event with his keynote address, followed by a keynote delivered by Mr. Herbert J. Scheidt, Chairman of the Swiss Bankers Association (SBA). Together, they highlighted the quality and advantages of Switzerland as a Fintech and financial center.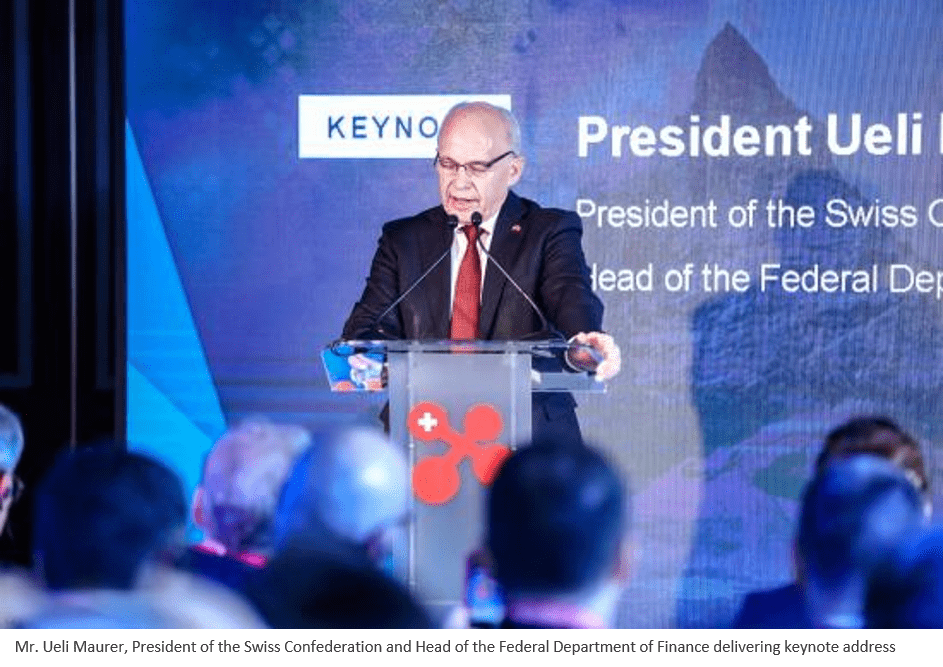 Their speeches were followed by an insightful panel discussion with Dr. Daniela Stoffel, State Secretary for International Finance, Dean Charles Chang of Fanhai International School of Finance, Fudan University, Dr Romeo Lacher, Chairman of the Board of Directors of SIX, Mr. Peilung Li, Chairman of LUN Partners Group and Prof Thomas Puschmann, Director of Swiss Fintech Innovation Lab, University of Zurich, and was moderated by Dr. David Chang, Vice President of Shanghai Blockchain Association.

The panel discussed topics concerning the current regulatory framework, traditional wealth management industry and Fintech startups. "If policies and standards across varying regulatory jurisdictions were interoperable, barriers of entry would be greatly reduced and a more efficient global environment for Fintech development could be possible. However, achieving this requires vast amounts of time and difficult bureaucratic solutions. In the meantime, we can look to the leadership of Fintech companies that are developing global hubs of financial services. By connecting partners of various regulatory jurisdictions, including Switzerland and China, these Fintech leaders will create highly efficient, interoperable environments that would accelerate the technological advancement and globalization of financial services." said Peilung Li, Chairman of LUN Partners Group.

swissnex China is the Science Consulate of Switzerland in China, which builds bridges by connecting Switzerland and China in education, research and innovation. By crossing conventional boundaries, we offer a platform to foster collaboration and creativity for inspiring research and ground-breaking innovation. Same as the other swissnex locations, the activities of swissnex China are based on a collaborative approach, relying on public and private partnerships and funding.
The 'Future of Money' Fintech event series, organized by swissnex China, has been taking place since 2017 with 8 events at the heart of the largest financial hubs across China (Beijing, Shanghai and Hong Kong), accumulating a wealth of expertise while exploring pioneering Fintech topics. Over 900 top academic experts, startups, thought leaders, regulators and business executives from Switzerland and China have attended to connect, exchange ideas and explore potential collaborations.

The Fanhai International School of Finance (FISF) at Fudan University is the premier internationally-focused economics and finance school in China, focusing on high-end financial talent education and financial research. There are a number of leading finance-related institutes and centers under FISF. The Fintech Research Center (FRC) is a national-level research center that combines a variety of qualified researchers, scholars, experts, and thought leaders in relevant industries, academic disciplines, and NGO/government organizations.
FRC is specifically focused to provide a window for the international experts' community to collaborate and interface with China to develop novel research, thought leadership, and collaborations with FISF academics and China's industry and government organizations. FRC is engaging with top international experts around the world to set up active research programs in Fintech regulation, blockchain/distributed ledger use cases, token economics design and theory, business model innovation, crypto-economics, e-governance, consensus policy, financing innovation, etc. FRC has a very applied research focus to link technology-driven research output to form industry collaborations.