Hong Kong: Quantifeed, Asia-Pacific's leading provider of B2B digital wealth management solutions, has been named Best Robo Advisor Solution by the prestigious magazine Asian Private Banker at its 2017 Technology Awards.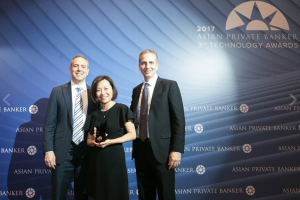 The Awards celebrate the innovations and achievements of Asia's rapidly growing financial technology sector. Companies are awarded for their foresight and execution.
"As a forerunner in the robo advisory space, Quantifeed has helped our ten banking partners open-up new wealth management opportunities and provide an engaging and convenient service to all of their wealth customers. Using sophisticated algorithms to provide smart investment advice on an individual client level, Quantifeed's solution frees up the time of client advisors so that they can focus on value-added services and help contribute to top-line growth." Priyanka Boghani, Head of Private Banking Coverage of Asian Private Banker singled out Quantifeed out of all the contestants running for the award.
Commenting on the award, Quantifeed's Chief Executive Officer, Alex Ypsilanti, said: "Quantifeed is redefining what it means to put the customer first in financial services. At its simplest, we call this revolution "wealthcare". Just as healthcare has evolved to focus on wellness, prevention and the patient first and foremost, so must financial services. Wealthcare is the evolution of wealth management from serving the few to the many, from standardised products to individual solutions and from limited contact points to unrestricted multi-channel availability. Quantifeed brings together decades of software engineering and quantitative finance to help financial institutions lead the transition to wealthcare. We are working with some of the largest wealth management organizations in Asia to digitize their services for thousands of customers. Our goal is to make access to wealth management advice painless, transparent and dare we say it – delightful."
For original report, please refer  to : http://quantifeed.com/news/quantifeed-named-best-robo-advisor-solution-asian-private-banker-technology-awards/